Quitting a Corporate job for Social Services, Babes Social worker shares why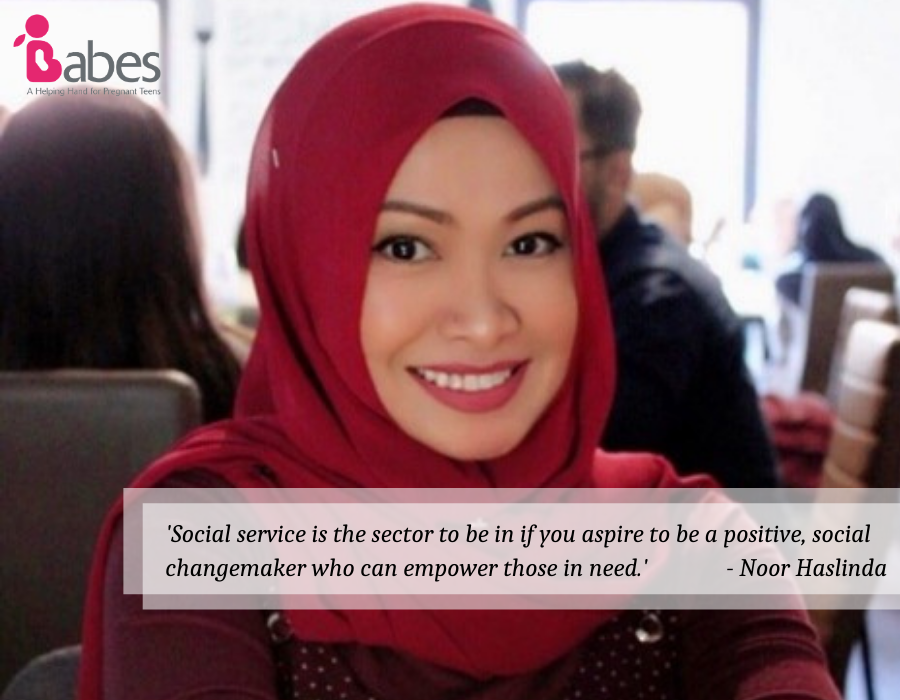 Monday March 15th, 2021
To celebrate World Social Work Day, 16th March 2021, we sat down with Babes social worker, Noor Haslinda Hj. Md So'od to find out what inspires and drives her to stay in the Social work sector.
1. Social work was not your starting career path, why did you do a career switch to join the Social service?
Having volunteered at a very young age, I was exposed to many different vulnerable groups in the community. As I grew older, the desire to help improve the lives of those in need and to advocate for the less fortunate became stronger. During my time in the corporate world, I was working in a media company, producing several TV series that were broadcast both locally and internationally. My career was on the rise but over time, I felt increasingly disconnected from the work. I wanted to do something that felt more fulfilling. This thus pushed me to explore career opportunities in the helping profession. After being in the media industry for a decade, I took the leap and never regretted my decision.
2. What do you personally view to be the greatest challenge you face in your job?
As a Social Worker, my role is to look into improving the lives of beneficiaries I assist. This comes with being exposed to a variety of crises and emotional situations on a daily basis which can cause stress and emotional burn-out. In my own personal experience, finding that work-life balance and building emotional resilience are some of the greatest obstacles in this field. It can be difficult to remain unaffected by distressing cases and practicing mindfulness to manage work pressure is easier said than done. However, knowing that the work I do can help uplift someone in their time of need keeps me going.
3. What motivates you and keeps you going in this line of work?
Seeing the girls I assist accomplish their goals. Regardless of how small it is, such as helping them to return to school, getting placement for their baby at an infant care center or gaining employment, journeying with them to pick up the pieces after their crisis, and knowing that the support I render is what they need to get through their days, fills me with a sense of purpose that drives me. Being able to make the world just a little better for someone, makes all the difference to me. And of course, the strong support and motivation from my family and co-workers!
4. Was there a case that stayed with/ inspired you?
It is hard to pick just one case as there are several that struck a chord in my heart. Every girl I have worked with has left their mark on me and inspired me in different ways. But if I had to choose one, one of the most challenging cases I have assisted was a girl who was in her final year in polytechnic and fell pregnant with twins. One of the twins was born with multiple disorders. That baby went through major surgery a few days after being born but unfortunately, did not survive. While grieving for her child, she found out that the father of her twins has been cheating on her.
It was a journey full of heartbreak, but she persevered. During this time, I worked closely with her mother and sister to provide her with the emotional support and practical assistance needed to help her pull through. We also had passionate volunteers who supported her during her journey, helping to search for infant care and encouraging her to go back to school to finish her final year.
Today, not only has she completed her Diploma studies, but she is also a hardworking young mother juggling both a stable job and single parenthood. The last I spoke to her mother, she was planning to do her Bachelor's degree. Having accompanied her during her toughest time and knowing firsthand the hardship she endured, her strength, determination, and perseverance were truly inspirational to me.
5. What is the one thing you would like the public to know about working in the Social service?
The social service sector has so much to offer and has jobs like no other. The fulfilment gained outweighs the challenges that come with the job. Social service is the sector to be in if you aspire to be a positive, social changemaker that can empower those in need.
6. What are your hopes/vision for Babes?
To be recognised nationwide for the good work that we do at the forefront in crisis management specialising in teenage pregnancy. I hope that eventually, Babes can expand as an organisation where we can develop more services and programs to support more teens caught in unplanned pregnancies and address the deep-rooted social issues which may have led to the crisis.